Patient Abused At Texas City Nursing Home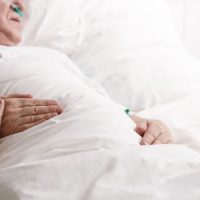 Houston residents must often rely on nursing homes to care for their loved ones when they age and develop physical or mental disabilities. These facilities are expensive, so people often think they are getting high-quality care. In some cases, patients get neglected or even abused, causing them severe injuries.
A nursing home resident was recently hospitalized after being abused by employees from Solidago Health and Rehabilitation, a nursing home located in Texas City. The incident happened on October 2, leaving the 87-year-old patient seriously injured.
On October 2, the man's family was informed that he fell from his bed and was in the hospital to be treated for injuries. The man had a neck brace as well as bruises around his eye. His family questioned what had happened, and found disturbing footage from a camera they had placed in his room and a previous allegation of abuse. The footage shows two nursing home employees standing next to him while he's on the floor.
One employee hits the man's leg, pulls him, then kicks him. The other employee watches this happen, then drags him by his wrist. Both employees lift the man and toss him onto the bed.  The patient can be seen kicking his leg in the air while an employee closes the curtain around the bed. It is unknown what happened next, but the employees were behind the curtain for about 15 to 20 minutes. The man then ended up on the floor again.
On October 7, Solidago Health and Rehabilitation claimed that it reported the incident to authorities and launched an internal investigation. The man's family also reported the incident to the Texas City Police Department using the video evidence.
The man's family were upset over the situation. They were speechless, in disbelief that this could happen to their loved one. The employees were fired after turning themselves in to the Galveston County Jail on October 6. The employees, women ages 57 and 61, are each facing a charge of injuring a child, elderly person, or disabled individual.
Unfortunately, nursing home abuse occurs often and for various reasons. Staff members are often overwhelmed, as they try to take on too many patients due to nursing home cutbacks. They may take their anger and frustration out on patients by abusing them. Under staffing can also lead to neglect as patients get ignored.
Contact Us Today 
While you may not be able to care for your family member on your own, nursing homes are not always the safest facilities for your aging loved ones. They often fall short when staff members do not provide loved ones with proper care.
A Missouri City nursing home abuse & neglect lawyer from Henrietta Ezeoke Law Firm can help you seek justice if your loved one has been injured or killed by a staff member's negligence. Contact us to learn more about your legal options. Fill out the online form or call (713) 234-0300.
Source:
star-telegram.com/news/state/texas/article267108206.html