How To Win A Slip And Fall Case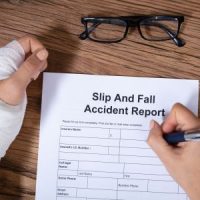 A person slipping and falling is often met with laughs from bystanders, as witnessed by TV shows such as "America's Funniest Home Videos." However, slips and falls are rarely funny for the victim. While many people are able to quickly get back up and resume life as if nothing happened, that's not the typical situation.
In fact, slips and falls lead to approximately 1 million hospital visits every year. These accidents often lead to serious injuries and even death. Falls are the most common cause of traumatic brain injuries. This is especially true for elderly people. Those over the age of 65 are more likely to fall and suffer a serious injury or death. Because slips and falls can happen anywhere and lead to significant injuries, you will want to know your legal rights in case you are ever a victim.
Can I File a Lawsuit?
After a slip and fall accident, your first thought may go toward recovering compensation. Can you sue the property owner or other negligent party? Possibly. It will depend on the circumstances involved. Some cases are stronger than others.
However, the victim will need to prove three things in order to win their case:
The defendant owed them a duty of care.
The defendant breached that duty of care.
The breach of that duty of care led to the injury and subsequent damages.
How to Strengthen Your Slip and Fall Case 
There are several things you can do to increase your chances of winning your case:
Seek immediate medical attention. The longer you wait, the more likely the insurance company will deny your case, claiming you weren't injured that badly.
Collect as much evidence as possible. This includes gathering evidence surrounding the accident. Take photos of the scene. Document what happened. If the accident happened in a store, there may be surveillance cameras with footage of the accident taking place. Save all your bills outlining your expenses caused by the accident, such as medical bills. Look for all sources of evidence. Even a witness statement can be helpful to your case.
Hire a lawyer. A skilled personal injury lawyer can assess your case and make sure you are doing the right things to move your case along. They will handle all the paperwork in a timely manner. They will work with the insurance company to ensure you get full and fair compensation. An experienced lawyer will also help you get the medical care you need.
Contact Us Today 
Slips and falls are serious events that can lead to broken bones, head trauma, back and neck injuries, paralysis, and even death. If you or a loved one has been involved, seek legal help right away.
Contact a Missouri City slip & fall lawyer from Henrietta Ezeoke Law Firm. We'll help you recover the full amount of compensation when you've been injured by someone else's negligence. We offer compassion and personalized service to our customers. Schedule a consultation by calling (713) 234-0300 or filling out the online form.
Source:
jdsupra.com/legalnews/what-are-my-chances-of-winning-a-slip-2033032/