What Are the Rules for Crosswalks in Texas?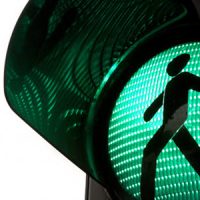 The Lone Star State has very unusual pedestrian crosswalk laws. In some cases, pedestrians have the right of way even if they don't have the light. Regardless of the light's color, the duty of care applies at all times. This legal responsibility requires drivers to avoid accidents, whether a pedestrian crosses with or against the light.
Police officers enforce the Texas Transportation Code and cite drivers who violate it. Possible consequences usually include a fine. A Sugar Land pedestrian accident lawyer enforces the duty of care. These attorneys pursue legal actions when drivers violate the duty of care. Possible consequences include paying compensation for economic losses, such as medical bills, and noneconomic losses, such as pain and suffering.
Walk
Pedestrians clearly have the right-of-way in these situations, even if they act carelessly. Pedestrians who stumble across the street when the light happens to be green still have the right- of-way.
The same rule applies to virtual crosswalks. At these crosswalks, pedestrians press buttons which activate flashing yellow lights. As long as the lights are flashing, pedestrians have the right-of-way.
Most drivers know that red means stop and green means go. Some drivers aren't aware of the virtual crosswalk rules. But the rules still apply, whether drivers are aware of them or not. So, if a tortfeasor (negligent driver) strikes pedestrians who are crossing with the light, these tortfeasors are normally liable for damages as a matter of law.
Flashing Don't Walk
In terms of traffic law, pedestrians still have the right-of-way in these situations. However, for a Missouri City personal injury lawyer, the liability issues are less clear.
For example, civil engineers designed most streets in Greater Houston with vehicle traffic in mind. Therefore, most streets have wide lanes and short red lights, to move vehicle traffic as quickly as possible. These design features make it difficult or impossible for victims with any mobility impairments to cross the street before the light turns red.
Because of these complexities, the comparative negligence doctrine often applies in these situations. If the driver and pedestrian are partially at fault, jurors must divide fault on a percentage basis, such as 50-50.
Texas is a modified comparative fault state with a 51 percent bar. So, if the victim is no more than 49 percent at fault for the injury, the tortfeasor is liable for a proportionate share of compensation.
Steady Don't Walk
Once again, these claims are complex. As mentioned above, people with mobility impairments might start across the street on Walk but not make it to the other side before the signal changes to a steady Don't Walk. Other pedestrians decide to "chance it" and walk across a street even when it's not safe to do so.
So, once again, the comparative negligence doctrine usually applies in these cases. So, even if an insurance investigator or emergency responder assigned fault to the victim, the victim might still be entitled to some compensation.
Reach Out to a Hard-Working Harris County Attorney
Injury victims are entitled to significant compensation. For a free consultation with an experienced personal injury attorney in Missouri City, contact the Henrietta Ezeoke Law Firm. Attorneys can connect victims with doctors, even if they have no insurance or money.
Source:
statutes.capitol.texas.gov/Docs/TN/htm/TN.552.htm