Obstacles to Maximum Compensation in Pedestrian Accident Claims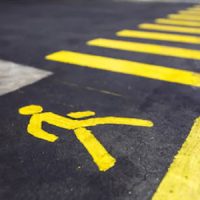 Law enforcement investigators rarely assign fault in pedestrian accident cases, even if the victim dies. So, insurance company investigators are free to assign fault to the non-policyholder, whether s/he was the victim or the driver. Don't put much stock into this determination. There's a big difference between fault and liability. Fault is like a halftime score and liability is like a final score. The liability determination, like the final score, is the only result that matters.
Additional facts sometimes change fault/liability determinations. Legal doctrines, two of which are outlined below, alter fault/liability determinations much more frequently. So, to obtain maximum compensation, a Sugar Land pedestrian accident lawyer must be ready to refute these defenses. Otherwise, the victim will not receive maximum compensation for economic losses, such as medical bills, and noneconomic losses, such as pain and suffering.
Sudden Emergency
This defense could apply in some cases. Tortfeasors (negligent drivers) aren't liable for the wrecks they cause if they:
Reasonably react to
A sudden emergency.
When they cause pedestrian accidents, usually because they weren't watching the road or properly controlling their vehicles, most tortfeasors reasonably react to them. They immediately pull over, proactively summon emergency responders, assist victims if possible, and wait for help to arrive.
However, if a tortfeasor doesn't do any one of these four things, a Missouri City personal injury lawyer can successfully contest the reasonable reaction element.
The sudden emergency element is even easier to contest. Jaywalking pedestrians, even if they run into the street at a non-intersection without looking both ways, are not sudden emergencies. Only extreme and completely unpredictable events, like hood fly-ups, are sudden emergencies.
Comparative Fault
In contrast, this defense comes up in almost every pedestrian accident claim, unless the victim crossed the street in a crosswalk with the light. This legal doctrine shifts blame for an accident from the tortfeasor to the victim.
If a judge agrees that both sides substantially contributed to the wreck, jurors make the same decision for themselves. Then, based on the evidence they must divide fault on a percentage basis. For example, jurors might conclude a speeding driver was 80 percent responsible for a crash, and a jaywalking pedestrian was 20 percent responsible.
Texas is a modified comparative fault state with a 51 percent bar. If the tortfeasor is at least 51 percent responsible for a crash, the victim receives a proportionate share of damages.
 Reach Out to a Hard-Hitting Harris County Attorney
Injury victims are entitled to significant compensation. For a free consultation with an experienced personal injury attorney in Missouri City, contact the Henrietta Ezeoke Law Firm. We do not charge upfront legal fees in these matters.