Top Three Wrongful Death Causes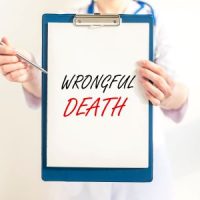 For the second year in a row, life expectancy in the United States dropped in 2021. Coronavirus deaths, which might not be random accidents, fueled much of the decrease. Employers, homeowners, and public facility owners all have a duty of care to provide safe and sanitary environments. Other common causes of premature death are listed below.
Nothing can possibly fill the void a wrongful death creates. But a Sugar Land personal injury lawyer can obtain financial compensation in court. This compensation allows survivors to pay the decedent's final expenses and move on with their lives. These are the outcomes that the decedent would have wanted.
Vehicle Collisions
Today's motor vehicles are faster and bigger than ever. So, it's little surprise that there are more fatal vehicle collisions than ever. The aforementioned coronavirus pandemic was indirectly responsible for this increase. When lockdowns emptied roads, drivers became more reckless.
Usually, a Missouri City personal injury lawyer can obtain compensation in court if the tortfeasor (negligent actor) violated a safety law or breached the duty of care, which in most cases is a duty of reasonable care. Victim/plaintiffs must also prove that a breach of duty, or a violation of duty, substantially caused injury.
These claims often have another layer. A third party, like an alcohol provider or employer, might be vicariously liable for damages. The dram shop law applies if a business sold alcohol to an intoxicated person, and the respondeat superior rule applies if an employee was negligent during the course and scope of employment.
Comparative negligence might be the most common defense in car crash claims and other negligence claims. This doctrine basically shifts accident blame from the tortfeasor to the victim.
Unintentional Poisonings
Much like vehicle collision claims, unintentional poisoning cases, which usually involve a drug overdose, have several layers.
The victims themselves bear some responsibility. But most of the responsibility, or maybe even all of it, lies elsewhere. Addiction is completely beyond a victim's control. Furthermore, some doctors write prescriptions without asking questions and some property owners ignore drug use in their own buildings. Finally, drug shipping companies cannot simply move boxes. They must meet the stringent requirements of the Controlled Substances Act.
All these layers are overwhelming, even to many lawyers. Therefore, only the most experienced personal injury attorney should handle such claims. That's especially true since, in most cases, courts consolidate these claims, at least for pretrial purposes.
Falls
We mentioned the property owner duty of care above. This duty extends to wet spots on floors and other fall injury hazards.
In addition to legal duty, a victim/plaintiff must prove the owner knew about, or should have known about, the hazard which caused injury. Think of a piece of lettuce on a grocery store floor. If the lettuce was crisp and wet, it probably just recently fell on the floor, so no liability attaches. But if the lettuce was dry and wilted, as if it had been there awhile, that's different.
The same duty of care applies to other property injury hazards, such as dog bites, swimming pool drownings, and negligent security-related injuries.
Work With a Dedicated Fort Bend County Attorney
Injury victims are entitled to significant compensation. For a free consultation with an experienced personal injury attorney in Missouri City, contact the Henrietta Ezeoke Law Firm. The sooner you reach out to us, the sooner we start fighting for you.
Source:
cdc.gov/nchs/pressroom/nchs_press_releases/2022/20220831.htm