Motorcycle Wreck Seriously Injures Sheriff's Deputy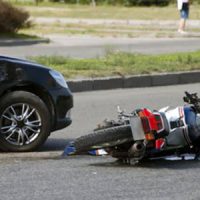 In July 2023, an off-duty Harris County law enforcement officer nearly lost his leg in a Houston motorcycle crash.
Houston Police Department investigators said the off-duty deputy was riding his motorcycle when he hit a black Chevrolet Tahoe. The deputy's motorcycle is marked in county colorings, but it's a personal bike, according to HPD. The Tahoe allegedly tried to turn into a convenience store but went on the wrong road when the crash happened.
The deputy was transported to a nearby hospital with a serious leg injury. The driver of the Tahoe was not injured.
Motorcycle Wreck Injuries
Most motorcycle collisions catastrophically injure motorcycle riders. But the tortfeasor (negligent driver) normally emerges unscathed.
Today's cars are much safer than yesterday's cars. The three-point seat belt, an invention that marked its 60th anniversary in 2019, was just the beginning of passenger vehicle safety innovations. Later ones included head restraints, airbags, padded dashboards, and crash bars.
However, today's motorcycles aren't any safer than the first ones that rolled off assembly lines around 1910. So, these victims are at a much higher risk for serious injuries like:
Broken Legs: These injuries might be the most common motorcycle crash injury. Usually the victim's leg is crushed between the motorcycle and another vehicle or the motorcycle and the ground. As a result, doctors must work much harder to set these bones and physical therapists must work much harder to restore lost function.
Head Injuries: Crash helmets limit, but certainly don't eliminate, the risk of a serious head injury. Crash helmets usually don't protect the cervical spine. A head-neck injury could cause permanent paralysis. Furthermore, crash helmets don't guard against motion-related head injuries. When riders fall off their bikes, their brains slam against the insides of their skulls.
Internal Bleeding: The same force sends internal organs smashing against each other. A slight abrasion or laceration causes serious bleeding. This bleeding is difficult to detect and even more difficult to stop. As a result, most internal injury victims are on the edge of hypovolemic shock before doctors examine them.
Medical treatment bills are only part of the puzzle. Victims must also pay thousands of dollars for ancillary expenses, like transportation costs, prescription drugs,  and medical devices. A Sugar Land motorcycle accident lawyer obtains compensation for all these economic losses, as well as noneconomic losses, such as reimbursement for pain and suffering.
Liability Issues
This compensation is available if a Missouri City personal injury lawyer proves negligence, or a lack of care, by a preponderance of the evidence, or more likely than not.
Ordinary negligence is a lack of ordinary care. Most drivers must avoid accidents if possible. They must watch for motorcycles and understand that these riders are much more vulnerable than vehicle occupants. If a lack of care causes injury, compensation is available, as outlined above.
Negligence per se is a violation of a safety law, such as making an illegal turn or driving while intoxicated. If a tortfeasor violates a safety law, and that violation substantially causes injury, the tortfeasor could be liable for damages as a matter of law.
The comparative negligence defense could  apply in both kinds of negligence cases. The court will reduce, or even eliminate, compensation if the victim substantially caused a motorcycle wreck. For example, if a tortfeasor turned in front of a motorcycle rider who was traveling 30mph over the limit, the rider might be ineligible for compensation.
Connect With a Detail Oriented Fort Bend County Attorney
Injury victims are entitled to significant compensation. For a free consultation with an experienced personal injury attorney in Missouri City, contact the Henrietta Ezeoke Law Firm. Virtual, home, and hospital visits are available.
Source:
abc13.com/hcso-deputy-hit-motorcycle-crash-harris-county-injured-in-houston-police/13450613/