Fireball Crash in Southwest Houston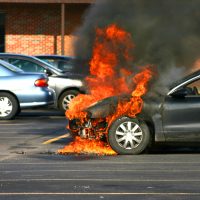 Investigators believe that a wet road, the driver's excessive speed, and fireworks in the trunk combined to cause a deadly wreck.
Police said the crash happened in the 11400 block of South Gessner Road near McGee Lane in southwest Houston.
Investigators said the flames were fed by what they believe were fireworks that exploded in the trunk, making it dangerous for firefighters to put out. Apparently, the driver lost control of the car when it hit the curb of the median, causing it to hit a tree, split in half, and catch fire.
A witness and a police officer tried to help by using a fire extinguisher. That's when the fireworks began to explode. The woman, who was trapped inside the vehicle, was pronounced dead at the scene. The male passenger was taken to a nearby hospital with serious injuries.
The roads were wet at the time of the wreck. Witnesses told police the car was speeding before the crash.
Passenger Injuries
Before we address the specific legal issues in this story, we should address some overall legal issues regarding injured passengers.
In single-car wrecks, most injured passengers have close, personal relationships with most tortfeasors (negligent drivers). Therefore, these victims often don't partner with a Sugar Land car accident lawyer who upholds their legal and financial rights. That's especially true if a public or private health insurance company paid most or all of the victim's medical bills.
Incidentally, most group health plans exclude injury-related costs. If the insurance company audits these expenses and if it chooses to do so, it could demand the victim repay that money. Granted, those are two pretty big ifs, but given the amount of money involved, the risk is significant.
Medical bills are only part of the compensation in a personal injury case. These victims are entitled to money for other economic losses as well, such as property damage. At best, insurance companies only pay the Blue Book value of a wrecked vehicle. The family car normally has an emotional value which, in many cases, exceeds its financial value.
Additionally, injured passengers are entitled to compensation for their emotional distress and other noneconomic losses. Quite frankly, victims need money to get their lives back on track. The tortfeasor who caused the wreck should be financially responsible for this burden, not a victim who did nothing legally wrong.
Furthermore, at its core, a personal injury action isn't about money. It's about responsibility. In a perfect world, tortfeasors would quickly and voluntarily accept responsibility for the mistakes they make. But we don't live in a perfect world, which is why a Missouri City personal injury lawyer must intervene in these cases.
Contributing and Substantial Causes
Legally, a car crash could have several contributing causes. But it only has one substantial cause, or but-for cause (the wreck wouldn't have happened "but for" the substantial cause). The substantial cause determines liability for the aforementioned damages.
The above wreck featured two contributing causes, a wet road and fireworks in the trunk. Other vehicles traveled on this wet road and didn't crash. Furthermore, the fireworks didn't spontaneously combust. That's what these two items were contributing causes.
The tortfeasor's excessive speed substantially caused the wreck. Excessive velocity caused the tortfeasor to lose control of the vehicle. That loss of control caused the explosion.
Speed is a very common substantial cause. It multiplies the risk of a wreck and the force in a collision.
At 30mph, most vehicles surge forward six car lengths after the driver applies the brakes. At 60mph, stopping distance multiplies to eighteen car lengths. Furthermore, per Newton's Second law of gravity, speed multiples the force in a collision.
 Connect With a Diligent Fort Bend County Attorney
Injury victims are entitled to significant compensation. For a free consultation with an experienced personal injury attorney in Missouri City, contact the Henrietta Ezeoke Law Firm. We do not charge upfront legal fees in these matters.
Source:
abc13.com/woman-killed-in-fiery-crash-dies-after-car-catches-fire-on-south-gessner-fireworks-were-trunk-of-that-crashed/13862278/