Your Legal Options Following a Bicycle Accident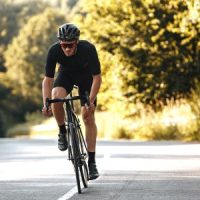 This title is misleading. Most bicycle collisions aren't "accidents." Instead, driver negligence, or a lack of care, causes most bicycle collisions. For this reason, the New York Times and other publishers don't use the A-word to describe these incidents. After all, ships sink, planes crash, and trains derail. Writers should use the same approach when discussing car crashes. Other legal options might be available as well, as outlined below.
Only a good Sugar Land bicycle accident lawyer can effectively evaluate all legal options and identify the one that's not only best for your situation, but also most likely to end in maximum compensation. This compensation usually includes money for economic losses, such as medical bills, and noneconomic losses, such as pain and suffering.
Unsafe Road
Drivers usually have a duty of reasonable care. They must avoid accidents if possible. Cities, counties, and states have a similar duty of care when they design and build roads. Some necessary safety features include good drainage, adequate lighting, and clear sight lines. Depending on the amount of bicycle traffic in the area, this legal requirement might also include a designated bicycle lane.
Texas law distinguishes between discretionary and ministerial acts. The sovereign immunity law, which is basically the same law that shelters police officers from liability, usually applies to discretionary acts.
A discretionary act is a high-level decision to build a road. Installing, or not installing, a traffic control device is also a discretionary act.
Usually, the sovereign immunity law doesn't apply to ministerial acts. These acts include filling potholes, fixing non-working traffic signals, and maintaining street lights. If a ministerial breakdown substantially causes a bicycle crash, a Missouri City personal injury lawyer might be able to hold the city, county, or state responsible for damages.
Defective Product
These claims are rare in bicycle crash cases, but they do occasionally arise. Defective tires are the most common issue.
Victims don't have to prove negligence in these cases at least to establish liability. The company's negligence may be relevant to damages. For example, if XYZ Corporation knows its bicycle tires are too thin but it doesn't recall them or even warn consumers about the increased risk, additional punitive damages might be available.
Driver Negligence
Driver negligence causes more than 95 percent of the bicycle crash cases in Texas. The duty of care, which was mentioned above, is based on the story of the Good Samaritan. This man went out of his way to help an injured traveler. Likewise, drivers must go out of their way to prevent bicycle collisions.
Motorists breach their duty of care if they drive aggressively or while impaired. Speeding is the most common kind of aggressive driving, and alcohol is the most common source of driver impairment.
If the breach substantially causes injury, the tortfeasor (negligent driver) is liable for damages. Other factors, like heavy rain, often contribute to bicycle crashes. But driver negligence, which in this case is driving too fast for the conditions, substantially causes these wrecks.
 Work With a Savvy Harris County Attorney
Injury victims are entitled to significant compensation. For a free consultation with an experienced personal injury attorney in Missouri City, contact the Henrietta Ezeoke Law Firm. Attorneys can connect victims with doctors, even if they have no insurance or money.
Source:
law.cornell.edu/wex/negligence