Grocery Store Falls From The Inside Out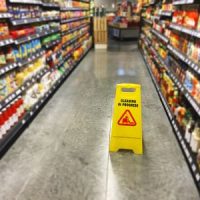 Slip-and-fall injuries at grocery stores are, by far, the leading cause of customer and employee injuries. These incidents are also responsible for the majority of grocery store liability insurance claims. Especially if the victim has a pre-existing condition, slip-and-falls usually cause serious injuries, such as broken bones and head injuries. These wounds often cost thousands of dollars to treat and cause almost unimaginable pain and suffering.
A Sugar Land slip and fall attorney can obtain the compensation these families need to pay these medical bills and replace other economic losses, such as lost wages. Compensation is also available for emotional distress and other kinds of pain and suffering. As outlined below, the same basic legal principles apply to inside and outside grocery store falls. However, location matters make these cases much more procedurally complex.
Interior Falls
Texas property owners usually have a duty of care to ensure that invited guests are reasonably safe. That invitation could be direct or indirect. The guest could be an employee, social guest, or commercial guest.
Making property reasonably safe usually means addressing injury hazards. Putting a "Caution Wet Floor" sign near a floor spill doesn't fulfill an owner's legal duty, at least in most cases. This legal responsibility applies in specific cases if the owner knew, or should have known, about the injury-causing hazard.
A Missouri City personal injury attorney usually looks for direct evidence of actual knowledge. That's the strongest proof and therefore usually means more compensation. However, circumstantial evidence is admissible as well. Courts use the time-notice rule to evaluate such evidence.
Think of a banana peel on the floor. If a yellow peel caused the victim to slip and fall, the peel most likely hadn't been on the floor very long, so no liability attaches. If, on the other hand, a black or gritty peel caused the fall, the owner and employee should have picked the peel up, because it had probably been on the floor for a while.
Smaller retailers, like coffee shops, fast-food restaurants, and nail salons, often have space in large grocery stores. Depending on the terms of the lease agreement, the grocery store or the small retailer might be responsible for slip-and-fall injuries which occur in or near their designated areas.
Exterior Falls
These same principles apply to falls outside grocery stores, on sidewalks and in parking lots. We don't get much ice in Greater Houston. But we do get lots of rain, which is almost as hazardous. Making matters worse, many sidewalks and parking lots aren't very well maintained.
Grocery stores are usually responsible for the parking and walkway areas immediately in front of their doors. The same thing goes for other mini-mall tenants, like flower shops and barber shops. Generally, the landlord must maintain common areas, such as the largest section of the parking lot. Frequently, these landlords are out-of-state holding companies, which makes these lawsuits even more complex.
It's important for exterior and interior fall victims to file legal claims, even if a public or private health insurance company pays most or all of their medical bills. The tortfeasor (negligent actor), not other policyholders and taxpayers, should bear financial responsibility for these injuries.
Count on a Hard-Working Harris County Attorney
Injury victims are entitled to significant compensation. For a free consultation with an experienced personal injury attorney in Missouri City, contact the Henrietta Ezeoke Law Firm. The sooner you reach out to us, the sooner we start fighting for you.
Source:
lighthouseenterprises.us/Hurricone/Slip%20n%20Fall.pdf