Common Defenses in Pedestrian Accident Claims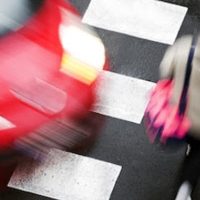 Until recently, legal defenses in pedestrian accident claims wasn't a blog-worthy topic. These claims were very rare. But the pedestrian accident rate has shot up 80 percent since 2009. Quite simply, many tortfeasors (negligent drivers) refuse to share the road with these victims. Pedestrian accident victims usually sustain catastrophic injuries. They literally have nothing but the clothes on their backs to protect them from oncoming vehicles.
Because of the callous attitude of tortfeasors (negligent drivers) and the serious nature of pedestrian injuries, a Sugar Land pedestrian accident lawyer can usually obtain substantial compensation for these victims in court. This compensation normally includes money for economic losses, such as medical bills, and noneconomic losses, such as pain and suffering.
Comparative Fault
This legal doctrine is probably the most common defense in a pedestrian accident or any other injury claim. It basically shifts blame for the injury from the tortfeasor to the victim.
Incidentally, only conduct at the scene is admissible on this point. Insurance companies cannot use a pre-existing condition, like a prior injury, as an excuse to reduce or deny compensation.
However, insurance company lawyers can basically argue that the victim didn't watch where s/he was going. This defense is particularly effective if the victim was jaywalking, but it could also work if the victim crossed with the light. Everyone has a responsibility to avoid accidents. Victims cannot step out into traffic as soon as the light changes and expect everyone to stop.
If both parties were partially at fault, jurors must divide responsibility on a percentage basis. Texas is a modified comparative fault state. Victims are entitled to a proportionate share of compensation if they were less than 51 percent responsible for the pedestrian injury.
Sudden Emergency
This doctrine excuses negligence if the tortfeasor reasonably reacts to a sudden emergency. It could apply in jaywalking crosswalk claims (crossing in the crosswalk but against the light), non-crosswalk surface street accidents, and freeway pedestrian accidents.
People react reasonably when they pull over to the right and wait for emergency responders to arrive. Usually, a sudden emergency is a completely unexpected situation, like another car careening out of control.
A jaywalking pedestrian in a crosswalk clearly isn't a sudden emergency. Most drivers see people cross against the light every day. Therefore, these pedestrians are everyday hazards that drivers should be prepared to avoid.
Jaywalking pedestrians outside crosswalks probably aren't sudden emergencies either. That's especially true if the accident happened on a residential side street. Non-crosswalk accidents on "main drags" are a closer case.
Pedestrian accidents on freeways, especially at night, are an even closer case. Drivers don't expect to see pedestrians on freeways, except perhaps in work zones or near stalled cars.
Connect With a Diligent Harris County Attorney
Injury victims are entitled to significant compensation. For a free consultation with an experienced personal injury attorney in Missouri City, contact the Henrietta Ezeoke Law Firm. The sooner you reach out to us, the sooner we start fighting for you.
Source:
iihs.org/topics/fatality-statistics/detail/pedestrians