2 Construction Workers Injured After Falling In Trench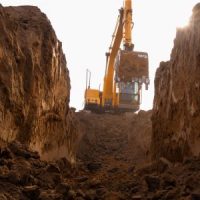 Construction is a dangerous industry, with accidents happening often. That's because construction sites have many elements, such as heights, electricity, machinery, tools, and heavy materials, all which can cause serious injuries.
Two men were injured in a construction accident in the Montrose neighborhood of Houston. The accident occurred on the afternoon of October 17 on Montrose Boulevard, near Bomar Street.
The Houston Fire Department was on site to assist the workers, who had fallen in the trench for unknown reasons. One of the workers had gotten themselves out of the trench by the time firefighters arrived.
The second person was trapped 15 feet deep into the hole and could not get out on his own. He was covered in debris. Firefighters were able to use a harness and rescue him, although it took around 40 minutes to do so.
Both workers trapped were taken to a local hospital for medical treatment. Their current conditions are unknown. No firefighters were injured. The street was closed for a while due to the trench.
Trenches in the Construction Industry
 Working in and around trenches is dangerous. Trenches can suddenly collapse without warning. While you may not think much of dirt falling on you, keep in mind that a square yard of dirt can weigh a whopping 3,000 pounds. If that happens to fall on you, you could easily die from being crushed or suffocated. In fact, trench collapses often result in fatality.
All trenches should have protective systems in place. These systems should be installed by a competent person. There are many ways to get the required training. Manufacturers, insurance companies, trade associations, and labor unions often have information about this.
Engineering controls, protective equipment, and changes to work practices can all help keep construction workers safe. All trenches that are at least 5 feet deep should meet standards put in place by the Occupational Safety and Health Administration (OSHA), which include:
Sloping the ground
Benching the ground
Shoring the trench (this means using supports such as planking and hydraulic jacks)
Shielding the trench with a trench box
Sometimes alternative methods can be used, and they can help prevent trench collapse and subsequent injuries and fatalities. Directional boring, pipe ramming, relining the pipe, pipe jacking, and utility tunneling may be alternatives. Another idea is to use robots. They can be used on construction sites to help connect large pipes and protect workers. Robots may also reduce the need for additional crews.
Contact Us Today 
Trench collapses and other accidents can be scary for victims. They can make a person feel suffocated or claustrophobic, causing physical and emotional distress.
Construction accidents can result in significant injuries and death. If you have been a victim, contact a Missouri City personal injury lawyer from Henrietta Ezeoke Law Firm today. We'll fight for you and provide you with top-notch legal support. To schedule a free consultation, call (713) 234-0300 or fill out the online form.
Source:
khou.com/article/news/local/montrose-trench-rescue/285-58bd893b-2385-4837-8b7b-ccb46b77b71e