Premises Liability – Hurt By A Flying T-Shirt?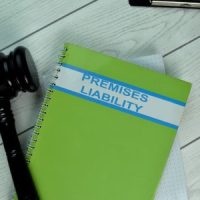 In 2018 Jennifer Harughty attended a Houston Astros baseball game and was seated on the third base side. Between innings, an Astros mascot launched t-shirts into the crowd from a cannon and one hit Jennifer's finger. It hurt a bit, but Jennifer figured it was only a jammed finger because, after all, how much damage could a flying t-shirt do to a person's finger?
Off to the ER 
As the game continued, Jennifer became concerned because her finger pain substantially increased. The day at the ballpark took an ominous turn when Jennifer went to the ER for treatment after the contest ended.
After scans, the ER docs told Jennifer that she had suffered  a severe fracture. Moreover, the injury would require reconstructive surgery. The surgery required that two screws be inserted into Jennifer's hand.
Months of PT 
After the surgery, Jennifer had to undergo months of physical therapy, but swelling, pain and loss of motion continued unabated. Finally, a second surgery was ordered so that Jennifer could possibly regain finger use.
Sued the Astros 
Jennifer finally decided to sue the Houston Astros for the injuries she suffered because of the errant t-shirt. She had acquired over $15,000 in medical bills and initially asked the Astros for help with those bills. The team refused to assist and Jennifer decided to sue. ABC News reported that Jennifer said, "I have a quiet life. It was an unfortunate incident, and we were just asking for some compensation for medical bills. I've never sued anybody in my life."
Jennifer also sued for loss of enjoyment of life along with loss of opportunity and mental anguish. She maintained, among other claims, that the teams did not provide adequate cannon firing warnings, and that the Astros' staff was not properly supervised.
The Astros eventually settled Jennifer's case.
The Baseball Rule
 Even though Jennifer's case settled, observers thought that something called The Baseball Rule might have had a bearing on Jennifer's case outcome. The Baseball Rule says that baseball facilities only have a limited duty to protect spectators from foul balls because baseball fans should know that sitting in the stands at a baseball game puts them at a certain risk of injury from foul balls.
Some legal scholars felt that the t-shirt projectile might be likened to an errant foul ball. Others felt that while baseball fans understand the damage of foul balls, they wouldn't necessarily be aware of any danger associated with cannon-launched flying T-shirts. Apparently the Astros didn't want to test The Baseball Rule and decided to settle with Jennifer.
Contact an Attorney for Help
Premises liability is a set of rules and regulations that requires public property owners to make sure that their properties are safe for customers and casual visitors. Some common premises liability issues are:
Slip and/or fall due to a tomato left on a restaurant floor.
Fall and injury at a swimming pool due to water left on concrete walkways.
Accidents at amusement parks.
Injuries caused by shopping center glass door malfunctions.
Escalator and elevator accidents.
If you have any questions about a premises liability incident, do not hesitate to contact Missouri City personal injury attorney Henrietta Ezeoke at 713-234-0030. We will personally discuss your case with you and advise on the proper next steps. Call today or set up a free consultation online.
Source:
enjuris.com/blog/tx/astros-tshirt-injury-lawsuit/#:~:text=A%20fun%20day%20out%20left,and%20settled%20for%20undisclosed%20damages