Missouri City/Houston Hit And Run Bicycle Accident Report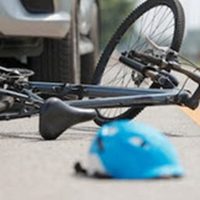 A Houston bicycle rider was killed by a hit and run driver during the Pride Bike Ride on October 12, 2022. The accident happened on West Dallas Street in the 2200 block. The victim, Shane McKinney, seemed to lose control of his bike according to witnesses, and he then veered into an adjacent traffic lane.
Shane was struck by a gray or silver Mercedes that had an out of state license plate. After striking the victim, the car driver sped up causing the auto's back tire to hit and run over Shane a second time. Finally, the car fled the accident scene.
 Other Riders Attempted to Help
Pride Club President David Loredo witnessed the horrible accident and said that some of the other bike riders at the event tried to chase the offending hit and run vehicle. Later, police commented that if the hit and run driver would have stopped to render aid, the victim might still be alive today.
Video Evidence
Police are looking for any video evidence and asked anyone with information about the bicycle hit and run accident to call the Houston Police Department. David Loredo further commented that this deadly accident was the first serious incident that had occurred during any of the annual Pride Bike Rides.
 Bike Accidents Can Happen Anywhere
In 2018, Marco Cruz was paralyzed from the waist down after a crash with a car in Missouri City, Texas. Eyewitnesses said that Marco's bike had crossed several traffic lanes, and there is a dispute as to who is at fault. Cases like these many times end up in court.
In 2020, Georgia Strief was biking home from the library in Missouri City, Texas, when she found an automobile speeding next to her. As she veered to avoid the traffic, her bike tire hit the curb and she was thrown from her bike. As Georgia was left injured with road rash and contusions, the offending driver took off and left the accident scene. Luckily, neighbors jumped in to help and stopped traffic until first responders were able to arrive.
Causes of Missouri City, Texas Bicycle Accidents
Some of the most common causes of Missouri City bicycle accidents that involve motorists are:
Bad weather
Rough and poorly maintained roads
Auto drivers under the influence of alcohol
Unsafe passing
Failure to check for cyclists when changing lanes
Opening vehicle doors in the path of cyclists
Failure to yield 
Remedies
Injured bicyclists should consider the services of a quality, experienced and local bicycle accident attorney. Missouri City personal injury lawyer Henrietta Ezeoke has over 20 years of experience representing personal injury victims. The Henrietta Ezeoke Law Firm does not settle cases too quickly just to be able to move on to the next one. They do not work on volume and will give your case the total and caring attention it deserves. You will meet with an attorney at your first consultation–not an intake person or a paralegal. Take the time to call us at 713-234-0030 today, or schedule an online consultation today.
Source:
outsmartmagazine.com/2022/10/cyclist-killed-by-hit-and-run-driver-during-pride-bike-ride/