Left Hook And Right Cross Bicycle Accidents In Texas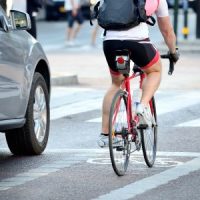 Since 2010, bicycle crashes in Texas have seriously injured more than 10,000 people. Other than thin plastic or foam bicycle helmets, which many riders don't wear, bicyclists are completely exposed to danger. Given the size and speed of today's cars and trucks, that danger is considerable. That's especially true in the kinds of bicycle crashes outlined below.
Driver negligence, or a lack of care, usually causes these and other bicycle accidents. When negligence causes injury, a Sugar Land bicycle accident attorney can obtain the compensation these victims need and deserve in court. This compensation usually includes money for economic losses, such as medical bills, and noneconomic losses, such as pain and suffering.
Left Hook Bicycle Accidents
These crashes usually happen when a tortfeasor (negligent driver) waits to make an unprotected left turn against traffic, either at an intersection or when pulling onto, or exiting from, a private driveway.
Many people drive large vehicles, like big SUVs and pickups. These large vehicles obscure driver vision, making it difficult to spot small bicycles. As a result, when tortfeasors think they see traffic gaps, they shoot through these gaps and pull directly into the bicycle's path.
Two-wheel vehicles are much harder to control than four-wheel vehicles. So, if a bicyclist tries to stop suddenly or swerve away from an oncoming car, the rider will probably lose control of the bike, causing an even worse crash.
Since the tortfeasor is normally traveling at or near top speed at the moment of impact, bicyclists usually suffer catastrophic injuries in these wrecks. These injuries include broken bones, head injuries, nerve injuries, and other wounds that are normally permanent, at least to an extent.
Left hook/private drive crashes also include elements of right cross collisions. Quite simply, many drivers don't carefully look both ways before they dart across the street.
Right Cross Bicycle Accidents
Failure to look both ways is even more common in right cross accidents. Normally, when tortfeasors turn right at intersections, they only look to the left and ensure there's no oncoming traffic. As a result, they usually don't see bicycle riders on their right. Once again, as they shoot through a gap in traffic, many tortfeasors are traveling at or near top speed.
Also as mentioned, bicyclists normally cannot avoid these wrecks. The only thing they can do is brace for impact, and that doesn't help much.
Sometimes, bicycle safety design measures contribute to these wrecks. Frequently, concrete pillars separate bicycle lanes from other traffic lanes in parts of Greater Houston. These pillars might give bicyclists more room, but they also limit driver visibility. So, even if tortfeasors look to the right, they cannot see through these pillars, and they often don't see bicycle riders.
Count on a Hard-Working Harris County Attorney
Injury victims are entitled to significant compensation. For a free consultation with an experienced personal injury attorney in Missouri City, contact the Henrietta Ezeoke Law Firm. The sooner you reach out to us, the sooner we start fighting for you.
Source:
sharetheroadtexas.org/statistics/