Causes Of Motorcycle Accidents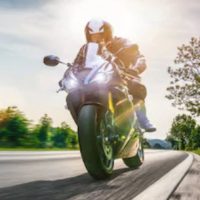 Texas is a sunny state, which means many residents like to enjoy the nice weather by riding motorcycles. Motorcycles offer fun and freedom, but they're also dangerous.
No motorcyclist wants to talk about the risks involved in riding a motorcycle. But the truth is that 80% of motorcycle crashes result in injury or death. This number is just 20% for accidents involving passenger vehicles.
Roughly 5,000 motorcyclists are killed in motorcycle crashes across the United States every year. Whether you're a rider or a motorist, you'll want to know the common causes of motorcycle accidents so you can stay aware and prevent them.
Alcohol Use
Alcohol use is a common factor in motorcycle crash fatalities. In fact, more than 30% of bikers involved in fatal accidents have a blood alcohol content (BAC) above the legal limit of 0.08. Reaction time, judgment, and coordination reduce after just one drink, so avoid drinking and riding.
Speed
Speed is also a common cause of motorcycle accidents. More than 30% of crashes are caused by speed, and it's no wonder. Motorcycles are small, fast, and powerful. However, excessive speed is a danger to not only yourself but others on the road as well. Many riders enjoy pushing their bikes to the limit, but it can lead to loss of control and fatal accidents.
Inexperience
A lack of experience is another huge factor. Many riders lack sufficient experience to ride a motorcycle. In fact, almost 30% of motorcycle crashes involve riders who don't even have a license. Don't try to do too much too soon. Inexperienced riders should stay off busy roads and take defensive driving courses to sharpen their skills.
Poor Weather and Road Conditions
Rain, ice, and snow can lead to slick roads, which can be dangerous for a motorcycle. This loss of traction can lead to loss of control. Road conditions can also cause crashes. Potholes, leaves, debris, oil slicks, puddles, and small animals can cause a motorcycle to go off the road, especially if you try to avoid these hazards. Gravel, sand, railroad tracks, and poorly lit roads can also present danger for riders. Take it slow, especially when the roads or weather are poor.
Mechanical Issues
Just like you go to the doctor for checkups, your bike needs periodic checkups as well. Before you get on your bike, check for issues. Are the tires worn? How do the brakes work? Are your mirrors broken? Mechanical issues can easily cause a crash, so take the time to maintain your motorcycle.
Contact Us Today 
Motorcycles can be a lot of fun but they can also be extremely dangerous. When a rider is not paying attention or is not properly trained on safe riding, they can easily get into a catastrophic accident. Fatalities are also common.
A Missouri City motorcycle accident lawyer from Henrietta Ezeoke Law Firm can assist you after such a serious crash. Achieve physical and financial recovery with the help of a skilled and compassionate attorney. Schedule a free consultation today by filling out the online form or calling (713) 234-0300.
Source:
ride.vision/blog/10-top-motorcycle-accident-causes/