Building a Slip-and-Fall Claim in Texas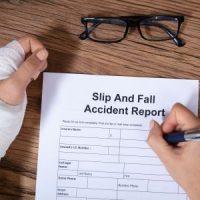 Slip-and-fall injuries, like broken bones and head injuries, prompt over eight million Emergency Room visits per year in the United States. These incidents also cause emotional injuries. Fall injury victims often become very depressed.
Most of these victims are older adults with pre-existing medical conditions that increase the risk of a fall and/or the injuries sustained. As outlined below, property owners are usually liable for these injuries.
TV commercials insist that an insurance company is "on your side" if you were hurt because of someone else's negligence. The real world is different. Unless a fall injury victim has a solid Sugar Land slip and fall lawyer, the insurance company will run roughshod over the victim's legal and financial rights. Our team ensures that doesn't happen.
Duty of Care
The Good Samaritan went out of his way to help an injured traveler. In the same way, Texas law usually requires property owners to go out of their way to ensure that their guests have safe and secure environments. The specific duty of care varies as follows:
Trespasser: The lowest legal duty only requires owners to refrain from intentionally injuring a victim. A trespasser is someone who has no permission to be on the property and whose presence doesn't benefit the owner. Shoplifters are trespassers, at least once they shoplift.
Licensee: The next highest duty of care requires owners to warn victims about latent (hidden) defects. A "Caution Wet Floor" warning sign is the classic example. This level of care applies if the victim was a licensee (permission but no benefit), like a guest of a hotel guest.
Invitee: Property owners have a duty of reasonable care if the victim had permission to be on the property and benefited the owner. The permission could be direct or indirect, and the benefit could be financial or nonfinancial. The duty of reasonable care requires owners to remove fall injury hazards, not just warn people about them.
Usually, the judge determines the proper level of care in a pretrial hearing. The result of this hearing often dictates the case's outcome. However, a Missouri City personal injury lawyer cannot obtain maximum compensation based on duty alone.
Knowledge of Hazard
Owners are only liable (legally responsible) for damages if they knew about, or should have known about, the injury-causing hazard. At trial, a victim/plaintiff must prove knowledge by a preponderance of the evidence, or more likely than not. Because this burden of proof is so low, a little evidence goes a long way.
Direct evidence of actual knowledge often includes restroom cleaning reports, prior fall injuries caused by the same hazard, and "cleanup on aisle three" PA announcements.
In Texas, the time-notice rule usually controls circumstantial evidence of constructive knowledge (should have known) determinations.
Assume Phil slipped and fell on a banana peel. If that peel was yellow, like it had just fallen on the floor, the owner probably didn't know about it. However, if the peel was black, as if other people had walked on it, the owner should have known about it and should have addressed the hazard, especially if the victim was an invitee.
Count on a Determined Harris County Attorney
Injury victims are entitled to significant compensation. For a free consultation with an experienced personal injury attorney in Missouri City, contact the Henrietta Ezeoke Law Firm. We do not charge upfront legal fees in these matters.
Source:
nfsi.org/nfsi-research/quick-facts/