Breaking Down A Left-Turn Motorcycle Accident In Texas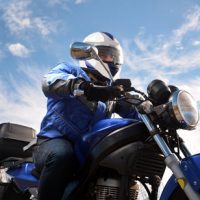 A combination of rider behavior and driver negligence, mostly driver negligence, causes most of the left-turn motorcycle accidents in Houston. According to the landmark Hurt Report, these incidents make up about a third of motorcycle accidents.
Generally, a tortfeasor (negligent driver) is waiting at an intersection to make an unprotected left turn against traffic. Small, slow-moving motorcycles are difficult to spot in a sea of large, fast-moving four-wheel vehicles. So, a tortfeasor often doesn't see an approaching motorcycle when s/he accelerates into an unprotected left turn. As a result, the motorcyclist broadsides the tortfeasor's vehicle. Because of the force in this collision, the rider rarely survives.
Even if a first responder or insurance adjuster claims the motorcyclist was at fault for this wreck, a Missouri City motorcycle accident lawyer can usually obtain substantial compensation in court. This compensation usually includes money for economic losses, such as medical bills, and noneconomic losses, such as pain and suffering.
Making a Case
Frequently, tortfeasors in these situations tell riders things like "I never even saw you" or "You came out of nowhere." These remarks aren't entirely out of place. Riders may be able to do some things, like weaving slightly in their lanes or wearing bright clothes, that may increase their visibility. But there's little or no scientific evidence that these shortcuts are effective.
Instead, the aforementioned statements are basically admissions that the tortfeasor failed to keep a proper lookout. Divers who don't keep a proper lookout violate Chapter 545 of the Texas Transportation Code. In the Lone Star State, drivers who violate safety laws and cause crashes could be liable for damages as a matter of law.
If an emergency responder doesn't issue a citation, a Missouri City personal injury lawyer can use the ordinary negligence doctrine to obtain compensation for victims. The basic elements of a negligence case are:
Duty: Typically, motorists in Texas have a duty of reasonable care. They must drive defensively and avoid accidents when possible. This duty includes a responsibility to carefully watch the road and spot all approaching vehicles, including motorcycles.
Breach: Aggressive driving is the most common breach of duty in left-turn motorcycle wreck claims. Quite simply, tortfeasors hit their accelerators before they ensure that the intersection is clear.
Cause: Tortfeasors are liable for damages if there's a connection between the breach and the damages. In Texas, victim/plaintiffs must prove that the breach substantially caused the damages. For example, bad weather contributes to wrecks. It usually doesn't cause them.
Damages: Most victims must sustain physical injury to obtain compensation for their injuries. Any physical injury, including property damage, will do. Texas does not have a no-fault insurance law.
These victims need compensation to pay medical bills and other accident-related expenses. They deserve this compensation because the money helps them move on with their lives.
Anticipating Defenses
Contributory negligence, which we touched on above, is the most common insurance company defense in vehicle collision claims. Basically, insurance company lawyers argue that the victim, instead of the tortfeasor, substantially caused the crash. In this case, the victim's fault is a failure to wear bright clothes or otherwise ensure visibility.
As mentioned, there's no scientific evidence that bright clothes improve rider visibility. So, the comparative fault defense usually falls flat in left-turn motorcycle crash claims.
The last clear chance defense sometimes comes up as well. Insurance company lawyers argue the victim should have anticipated the crash and should have avoided it.
This defense usually falls flat as well. Usually, these accidents happen so quickly that the victim didn't have a realistic opportunity to avoid the wreck. Furthermore, motorcycles are much harder to control than four-wheel vehicles. So, if a motorcycle rider brakes or changes lanes suddenly, s/he might cause a worse accident than the one s/he tried to prevent.
Connect with a Tough-Minded Fort Bend County Attorney
Injury victims are entitled to significant compensation. For a free consultation with an experienced personal injury attorney in Missouri City, contact the Henrietta Ezeoke Law Firm. Lawyers can connect victims with doctors, even if they have no insurance or money.
Source:
one.nhtsa.gov/people/injury/pedbimot/motorcycle/00-nht-212-motorcycle/research9-11.html