Ridesharing Operators and Distracted Driving Wrecks in Texas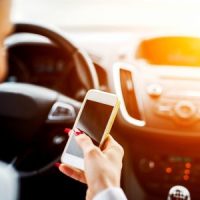 Demand for ridesharing services has skyrocketed since coronavirus lockdowns ended in 2020. But the number of ridesharing operators hasn't skyrocketed. As a result, the remaining drivers often operate in unknown areas and over-rely on GPS navigation devices. This dependence probably explains why the number of distracted driving crashes has also skyrocketed in recent years.
Furthermore, overworked drivers are fatigued drivers. In fact, since they usually have full-time obligations elsewhere, many ridesharing operators are dangerously fatigued before they get behind the wheel. Driving after being awake for eighteen consecutive hours is like driving with a .05 BAC level. That's above the legal limit for Uber drivers and other commercial operators in Texas.
A Sugar Land distracted driving lawyer stands up for the victims of these, and other, distracted driving accidents in court. Furthermore, an attorney is a good negotiator. Therefore, if a lawyer puts down a strong foundation, injury claims normally settle out of court, and on victim-friendly terms.
Ordinary Negligence
A Missouri City personal injury lawyer can use the ordinary negligence doctrine to obtain compensation in these cases. The elements of an ordinary negligence claim are:
Duty: Ridesharing operators and other commercial drivers are held to a higher standard (a duty of utmost care) in Texas. Even something like glancing at a hands-free GPS screen is probably negligence, or a lack of care.
Breach: GPS navigation and other electronic devices combine all three forms of distracted driving. These gadgets cause drivers to take their eyes off the road (visual distraction), their minds off driving (cognitive distraction), and their hands off the wheel (manual distraction).
Cause: A victim/plaintiff must prove that the tortfeasor's negligence substantially caused the wreck. Bad weather might contribute to a car wreck, but driver negligence substantially causes it, at least in most cases. A victim/plaintiff must also prove that the tortfeasor could foresee (predict) that his/her action might cause an injury.
Damage: Victim/plaintiffs are usually eligible for compensation if they sustain physical injuries or property damage. Some other legal theories, like negligent infliction of emotional distress, could apply in some cases.
This compensation usually includes money for economic losses, such as medical bills, and noneconomic losses, such as pain and suffering. Usually, the ridesharing company is financially responsible for these damages, because of the respondeat superior (let the master answer) theory. This doctrine applies if the tortfeasor was working within the course and scope of employment at the time of the injury.
Negligence Per Se
This legal rule applies if the tortfeasor breaks a safety law, like the DUI law, and causes injury. Such tortfeasors are liable for damages as a matter of law.
Texas doesn't have a statewide device ban. Some limited bans apply in some cases, like construction or school zones. Furthermore, some Greater Houston municipalities have hands-free ordinances.
However, even if a safety law applies, it usually doesn't apply to hands-free devices, the preferred devices of ridesharing operators. Therefore, the time-saving negligence per se rule doesn't apply in very many distracted driving wrecks in the Lone Star State.
Contact a Hard-Hitting Fort Bend County Attorney
Injury victims are entitled to significant compensation. For a free consultation with an experienced personal injury attorney in Missouri City, contact the Henrietta Ezeoke Law Firm. We do not charge upfront legal fees in these matters.
Source:
research.chicagobooth.edu/-/media/research/stigler/pdfs/workingpapers/27thecostofconvenience.pdf?la=en&hash=A15B1513F98D7A17B9E37F78DD2EBDC4C6338BFA