Dual Fatal Semi-Truck Wreck In Mont Belvieu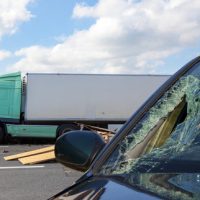 A mother and child are dead after the mother's SUV collided with a semi-truck attempting an illegal U-turn.
Mont Belvieu police said initial information indicated the tractor-trailer rig was traveling northbound on Eagle Drive, and attempted a U-turn across both lanes of traffic. The truck became stuck in the right-of-way area during the U-turn, leaving the flatbed trailer extended across both lanes of traffic. The southbound Dodge Nitro then struck the trailer.
The 40-year-old female driver and a 13-year-old female rear-seat passenger, both of Liberty, were declared dead at the scene. A third occupant, a 2-year-old girl, was uninjured, but emergency responders airlifted her to a Houston-area hospital as a precaution.
The driver of the Peterbilt tractor trailer wasn't injured.
Truck Crash-Related Medical Bills
A fully-loaded large truck weighs, at a minimum, 80,000 pounds. Without even asking any questions, regulators often issue overweight vehicle waivers. The massive force in a truck wreck usually causes sky-high medical bills that, in many cases, insurance company adjusters are hesitant to pay for.
Quite simply, insurance companies make money when they collect premiums and lose money when they pay claims. No one likes losing money, which is why adjusters closely scrutinize truck crash-related medical bills.
Frequently, instead of the facts in the case, adjusters use boilerplate actuarial tables to determine payment. For example, if a victim breaks a leg, the insurance company might authorize X dollars in medical treatment bills and Y number of physical therapy sessions.
Such tables don't account for the fact that truck crash injuries are usually much worse than other kinds of injuries. Generally, doctors must use metal screws, rods, and other parts to surgically reconstruct truck crash-related broken bones. This more invasive therapy is much more expensive. This invasive treatment also means that a handful of physical therapy sessions won't enable the victim to regain lost use.
These disputes often begin before doctors begin work. The medevac transportation in the above story is a good illustration. It's very doubtful that an insurance company would pay for a $30,000 helicopter ride to a hospital if the victim had no serious injuries.
A Sugar Land personal injury attorney connects victims with doctors who charge nothing upfront for medical services. So, a family doesn't have to deal with an additional financial burden.
Liability Issues
The above story also illustrates the comparative fault defense. Under normal circumstances, cautious drivers don't smack into large truck trailers stretched across a highway.
Usually, however, freeway conditions in Greater Houston aren't normal. For example, heavy traffic is the norm on many freeways. As a result, drivers don't have room to swerve into another lane or make other emergency maneuvers.
Additionally, traffic also does long-term damage to freeways. Furthermore, when road crews repair damage like potholes, they often overfill them and turn them into speed bumps.
Finally, truck drivers, and other commercial operators, have a higher duty of care than noncommercial drivers. Noncommercial drivers can make risky U-turns and sometimes get away with it. Truck drivers are usually negligent when they do such things.
Jurors must consider all these factors before they divide fault proportionately, such as 50-50 or 80-20, between the two drivers.
Texas is a modified comparative fault state with a 51 percent threshold. Tortfeasors (negligent drivers) are responsible for a proportionate share of damages if they are at least 51 percent responsible for a wreck.
The company that owned the truck or cargo, as opposed to the individual driver, is often financially responsible for these damages, because of the respondeat superior rule. These damages usually include compensation for economic losses, such as medical bills, and noneconomic losses, such as pain and suffering. Additional punitive damages may be available as well, in some extreme cases.
Reach Out to a Tough-Minded Fort Bend County Attorney
Injury victims are entitled to significant compensation. For a free consultation with an experienced personal injury attorney in Missouri City, contact the Henrietta Ezeoke Law Firm. The sooner you reach out to us, the sooner we start fighting for you.
Source:
fox26houston.com/news/houston-crash-eagle-drive-closed-after-fatal-crash-public-asked-to-avoid-area